Campus Race to Zero Waste 
Campus Race to Zero Waste is an eight-week waste reduction competition among colleges and universities across the U.S and Canada.
The competition takes place during U-M's winter term. The 2023 competition will run from January 29 – March 25. 
Working remotely? We've got you covered with tips and fun waste reduction challenges for wherever you are!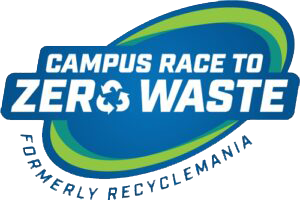 Campus Race to Zero Waste: U-M Edition
Parallel to the national competition, U-M hosts a competition between campus buildings. In the U-M Edition, we challenge participating buildings on the Ann Arbor campus to excel in three competition categories:
Diversion Rate – Measures the percentage of total waste diverted from landfill (recycling and compost).
Most Improved Diversion Rate – Compares the diversion rate over the course of the eight weeks to the diversion rate over the same eight weeks in 2022.
Waste Reduction – Compares the total waste (recycling, compost, landfill) during the competition to the total waste produced over the same eight weeks in 2022.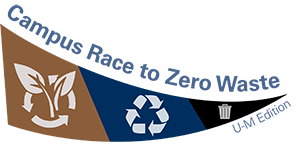 1. Register your building or yourself.
You can participate on campus or wherever you are! Sign up to receive weekly emails with rankings, challenges, and tips.
We automatically include all buildings serviced by U-M Waste Management Services (the majority of campus buildings) in the national Campus Race to Zero Waste. But if you'd like your building to be included in U-M Edition, please register so we know to track it and send you weekly updates.
2. Reduce, reuse, recycle, and compost—and encourage others to reduce waste too!
We'll provide a weekly theme, tips, and signage you can use to promote the competition. Encourage your classmates, coworkers, fellow residents, and others using the channels that work best for your audience—signage, social media, newsletters, and more!
Winning buildings receive an award to recognize their efforts.
Items included in the competition include:
Single-stream recycling
Landfill
Compost