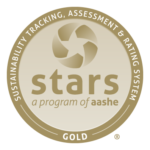 U-M participates in the Sustainability Tracking, Assessment and Rating System (STARS), a transparent, self-reporting framework for colleges and universities to measure their sustainability performance. 
U-M's current rating is Gold. STARS ratings are valid for three years. U-M will be renewing in 2022. 
The points earned in each category provide an indication of our university's strengths and areas for continued improvement.