Energy Conservation Measures
As U-M pursues carbon neutrality, it has increased its investment in energy conservation measures (ECMs). Wondering what an ECM is? We're here to help! Our history with ECMs dates back to the first U-M energy engineer role established in the early 1990s.
An energy conservation measure (ECM) reduces the energy consumption of a particular piece of equipment or a certain aspect of essential building services to reduce overall building energy use.
A revolving energy fund (REF) has enabled the expansion of ECM projects across all U-M campuses and auxiliary units (Athletics, Michigan Medicine, and Student Life). The REF offers a significant boost: $25 million over five years.
Implementing ECMs on a broader scale than what OCS has historically led in Ann Arbor general fund buildings will be a significant boost toward carbon neutrality. We welcome the addition of more players to this arena!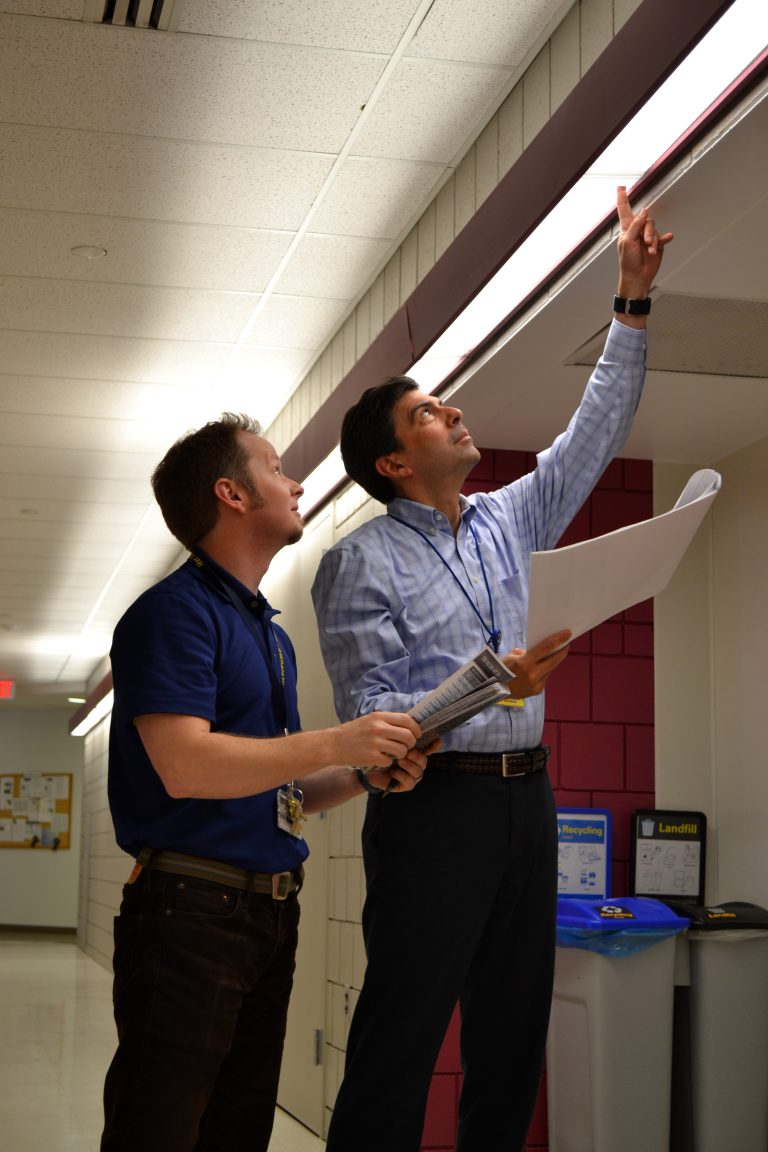 Energy Management and building staff work collaboratively to improve energy efficiency through projects such as LED lighting.
ECMs planned and implemented by university units will vary, but to give you a sense of what an ECM is, here are examples from our past work.
These projects entail upgrading existing lighting sources with more energy efficient LEDs. Existing lamp types vary: fluorescent, metal halide, incandescent, etc. Since 2011, $3.5 million has been invested in more than 60 projects. Here are a few examples:
Duderstadt Center linear fluorescent lamps to LED
$183,000 cost
$30,000 estimated annual savings
6.1 year simple payback
186 metric tons of carbon dioxide avoided annually

Medical Sciences Research Building 3 linear fluorescent lamps to LED
$110,000 cost
$26,000 estimated annual savings
4.2 year simple payback
123 metric tons of carbon dioxide avoided annually
Occupancy sensor installation
Occupancy sensors are used to control lighting and heating, ventilation, and air conditioning (HVAC) in eligible spaces. When unoccupied, lights can be turned off and HVAC reduced. Since 2011, $700,000 has been invested in more than 12 projects. Here are a few examples:
GG Brown Laboratory occupancy and photocell sensor project
$47,000 cost
$18,000 estimated annual savings
2.6 year simple payback
171 metric tons of carbon dioxide avoided annually

School of Public Health 1 occupancy sensor project
$274,000 cost
$56,000 estimated annual savings
4.9 year simple payback
367 metric tons of carbon dioxide avoided annually
Upgrades to existing HVAC systems can provide heating, ventilation, and air conditioning more efficiently.

Ross School of Business Room 2330 HVAC improvements
$23,000 cost
$56,000 estimated annual savings
0.4 year simple payback
170 metric tons of carbon dioxide avoided annually