U-M participates in the Sustainability Tracking, Assessment and Rating System (STARS), a transparent, self-reporting framework managed by the Association for the Advancement of Sustainability in Higher Education for colleges and universities to measure their sustainability performance. 
U-M's current rating is Gold. STARS ratings are valid for three years. 
The points earned in each category provide an indication of our university's strengths and areas for continued improvement.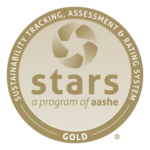 Detailed data on more than 160 sustainability metrics for the Ann Arbor campus. Highlights are included in the Ann Arbor Campus Sustainability dashboard.