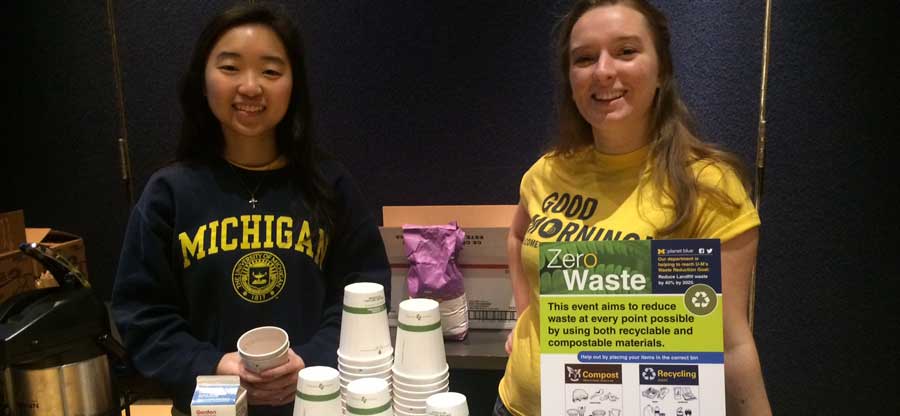 What is a Zero Waste Event?
A zero waste event aims to reduce waste, recycle and compost as much as possible to divert waste from the landfill. Zero waste events are an important contribution to
U-M's waste reduction goal
. Our assistance is primarily related to composting, but we highly encourage waste reduction and use of reusables as part of your event planning.
Your Zero Waste Commitment
If you are hosting a zero waste event on campus and receiving support from OCS, you are expected to:
Communicate with your food provider your goal to go zero waste (e.g. no excess packaging, bulk options where possible, etc).
Have a plan to prevent contamination in your compost collection.
Let attendees know what and where to compost.
Set up compost collection boxes and ensure the bags of compost are placed into compost carts for pick-up following your event.
We have resources to help you with these steps below or you are welcome to email us for assistance.
The Zero Waste Events Program provides technical assistance and resources to departments and groups for on-campus events. We provide and arrange for:
Assistance identifying compostable tableware, such as plates, cups and utensils (can provide to student-led on campus events if needed).
Compost collection boxes and liners
Signage
Compost service the day of your event (if the building doesn't already have regular compost service). Just give us a week's notice!
If you haven't hosted a zero waste event before (or need a refresher), email
zerowaste@umich.edu
to have a member of our staff give you and your group a short training.