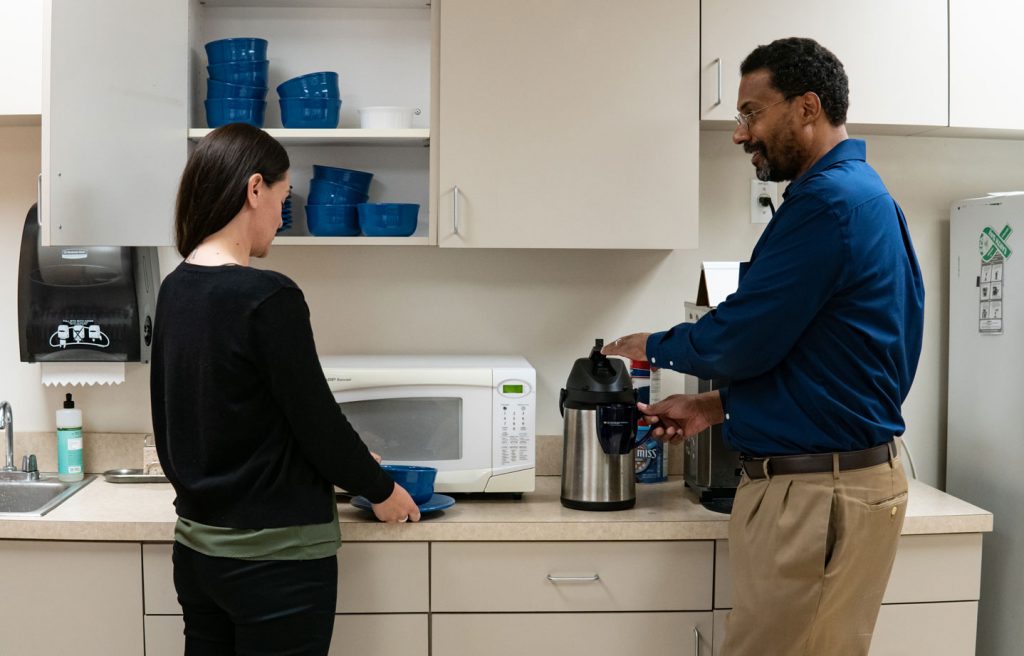 An organized group of people (typically U-M staff) who implement sustainability initiatives, educate and engage others, share innovative ideas, and work with OCS to pilot ideas. A green team empowers committed staff to drive action and contribute to a sustainable campus culture.
Sustainability actions at the workplace level can have a positive impact well beyond campus. After all, waste and emissions don't stop at the campus borders—nor do the positive impacts of education and empowerment! A green team can integrate sustainability, equity, inclusion, wellness and community-building for a broad, lasting impact.
Incorporate your sustainability values into your workplace on an ongoing basis.
Be empowered to understand and support sustainable operations and educational programming.
Opportunity for hands-on participation with educational outreach or operational programming.
Professional development including:

Networking with other staff, faculty, and students interested in sustainability and the intersection between sustainability, health, and DEI.
Mentorship opportunities to broaden knowledge and skills related to sustainable campus operations and behavior change.
Adopt and maintain sustainable practices, including purchasing and waste reduction practices that support financial stewardship and other department priorities.
Be a leader in sustainability on campus.
Opportunities to pilot potential new programs/resources.
A designated OCS liaison to help you set and achieve sustainability goals.
Support the U-M sustainability goals to increase community awareness (directly) and reduce energy consumption and waste generation (indirectly).
Support sustainable behavior by leveraging peer influence.
Amplify feedback loops that help OCS continually improve sustainable operations.
A designated OCS liaison to:

Aid with implementation of your team's sustainability ideas.

Connect you with operational staff to better understand sustainability considerations and more successfully implement chosen actions.

Integrate departmental and campus environmental and health initiatives.

Assistance with selecting and implementing a suite of common activities and initiatives.

Training, recognition, and networking events.

Assistance connecting environmental initiatives with health and wellness and fiscal responsibility.

Personalized impact reports for leadership to highlight the positive impact of your efforts.
Who Can Start a Green Team?
U-M staff are the primary participants. Faculty and students are encouraged to participate.

We strongly encourage starting with

Sustainable Workplace

certification.

Where possible, we will facilitate connections among teams in the same unit (e.g. a college) for additional collaboration.
Sounds good? Let's get started!
Contact the OCS green team liaison (see sidebar) for your campus area to find out if a green team already exists in your building. Consider forming a green team at the building level for maximum impact.
Identify at least 1 other colleague who would be interested in forming a green team.
Seek support from your unit leader. Leadership engagement and support is critical to a successful green team. Green team initiatives often require some degree of dedicated staff time and engagement of additional department or building staff.
It's also wise to get to know your building's facility manager as green team initiatives often require understanding building operations and sometimes require facility adjustments. We can help connect you to your facility manager and other building staff if needed.
Please fill out this participation agreement and send it to greenteams@umich.edu. We're eager to talk to you about your team and goals, and we'll set you up to access the Green Team Toolkit.
Specializing in supporting certain units of campus enables us to learn the nuances of your unit and building operations. If you are in a shared space (e.g. an LSA department located in a Student Life building or an MDining cafe in an academic building), prioritize the building designation, as this contributes to the implementation of building-scale initiatives.
Central and South campus
Nicole Berg (interim)
North Campus and College of Engineering
Anya Dale
Student Life, Athletics, MDining operations
Alison Richardson
Medical School, Michigan Medicine buildings, lab buildings, NCRC
Nicole Berg
After you've activated your green team (see Get Started at left), we'll provide specialized resources to achieve success!
Examples include:
Waste assessment checklist

Recorded video trainings

Incorporating Sustainability Feedback into Meetings guide

Sticky notes to provide recycling/compost bin feedback