We work with Waste Management Services
and U-M Housing to reduce waste during student move-in/move-out.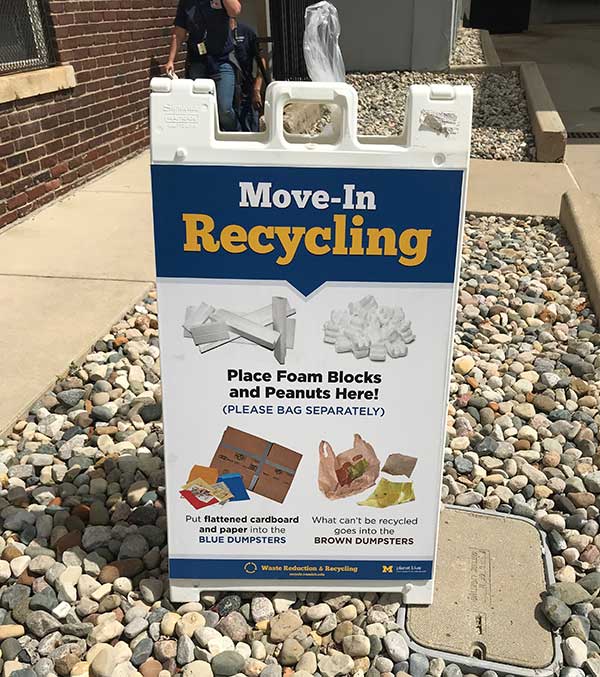 Bring cardboard boxes and Styrofoam to your residence hall's loading dock. Or, if you live in Baits Housing or the Northwood Community Apartments, bring materials to the dumpsters located around the parking lots.
Break 'em down! Empty out any trash or foam and flatten the boxes and toss them into the large, blue recycling dumpster.
Newspaper and office paper from boxes can also be recycled in the blue dumpster.
Place plastic bubble wrap, Styrofoam blocks and packing peanuts in separate bags and place in the designated area near the dumpsters.
Please remember to put other materials in the brown landfill dumpsters. When in doubt, throw it out!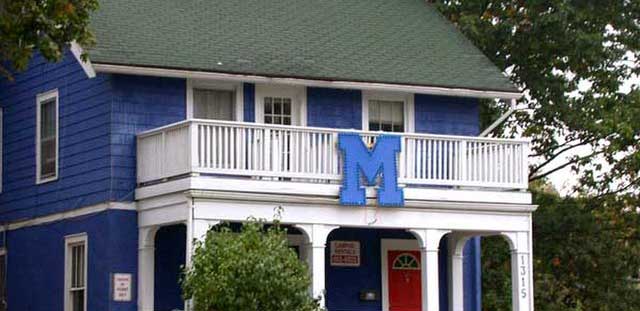 Check out this off-campus move info.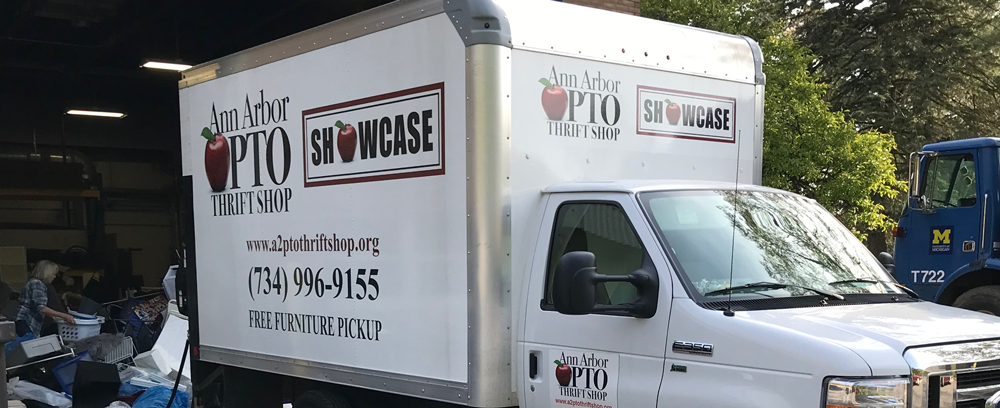 It's the end of April and you've finished your final exams. It's time to pack everything up and move out but YOU DON'T HAVE ENOUGH ROOM FOR THIS STUFF! Sound familiar? If so, you have an alternative besides throwing this great stuff away—donate it!
For more than 25 years, U-M's Student Move-Out Donation Program has encouraged students living in the residence halls to donate lightly used items instead of sending them to the landfill. In 2022, students donated 9.75 tons of items!
This area is where you can donate items you don't want, can't believe you own, or simply don't have room for in your car.
Look for the donation collection boxes in your residence hall. Please bag donations separately according to type of donation (food, clothing, shoes, etc.).
Materials are picked up by U-M Waste Management Services, sorted, and donated to local non-profits including Ann Arbor PTO Thrift Shop, Kiwanis, House N2 Home, Goodwill, and Maize and Blue Cupboard.
We partner with Student Life to collect donations for one of its programs, Maize and Blue Cupboard. You can place donations of canned and dry goods, cookware, and personal care items in the collection boxes in your residence hall.
Accepted items include:
Canned and dry goods: unopened, in original packaging, intact label, in
good condition, unexpired
Kitchenware: pots and pans, plates, bowls, and silverware
Personal items: unopened self care necessities like shampoo,
conditioner, deodorant, toilet paper, and paper towels

Donations can also be made directly to Maize and Blue Cupboard.
Please bring large and bulky items like carpets and furniture to the "Take It or Leave It" areas located outside the residence hall loading docks and at Northwood III dumpster areas. And as the sign says, please feel free to take whatever items you find and give them a new home.
Must be rolled up neatly and sealed with cord or tape. Place in designated area outside.
Place neatly in designated area outside.